Meet the Stumpf's Gymnastics Staff
Eric Stumpf - Owner
Eric is the president of Stumpf's Gymnastics Center. Eric received a degree in physical education in 1976 from Canisius College and was a three-time WNY All Around High School champion at Kenmore East High School(1970-1972) Eric has been teaching gymnastics since 1972 during this time he coached the men's Empire State games Scholastic team for six years and the Canisius College mens gymnastics team from 1977-1978 . Currently Eric is coaching recreational level gymnastics as well as the girls Prep Opt Team.
Kurt Stumpf - Owner
Kurt is the vice-president of Stumpf's Gymnastics Center. He participated in competitive gymnastics at the Buffalo Turners for 8 years with his parents as his coaches. In 1974-77 he competed for Kenmore East High School where he graduated in 1977. In 1977 he started coaching with his family at the Gymnastics School of Buffalo at Canisius College. In 1978 the Stumpf family opened Stumpf's Gymnastics Center in Williamsville where he is still actively coaching team levels 5-Elite. Since 1979 he has coached at the high school level first as an assistant coach at Mount Saint Marys Academy from 1979-1981 with his mother, then as an assistant coach at Williamsville South High School from 1982-present where he has helped coach 10 Section 6 Team Champions. He has served as head coach for Section 6 team at the N.Y.S. Championships since 1979. In 1985 Kurt was appointed Womens gymnastics chairperson fro the Empire State Games Western Region. He has also been the Empire State Games Western Region open womens coach since 1985. Kurt is currently the 2010-2011 N.Y.S. Chairman for the mens gymnastics officials for N.Y.S. high school gymnastics. Over the years, Kurt has coached many Level 9 National & Level 10 National qualifiers along with 5 Elite level gymnasts, 3 of which qualified to Elite Nationals. Kurt has also had about 40 gymnasts receive college scholarships for gymnastics.
Daniel Molnar - Manager & Head Boys Team Coach
Dan competed in gymnastics at Amherst High School from 1984-1987. He was the three time Section VI vault champion and was ranked on vault in the top ten in high school gymnastics in the U.S. in 1986. He has competed in the Empire State Games many times winning gold medals on vault, floor and rings as well as team. Dan started coaching at the YMCA in 1985. He coached at Western NY Gymnastics Academy for 7 years. He coached the gymnastics team for Amherst High School for two years before coming to Stumpf's in 1994. He has been a coach for the Empire State Games and regional director for the western region since 1995 as well as the current NYS Upstate Chairman for mens gymnastics. He also has his certification for Judging JO and National level Gymnastics. Dan has coached many state team and individual champions as well as regional champions and national event finalists.
Keith Stumpf - Program Director & Coach
Keith started classes at Stumpf's at age 2 1/2 until age 18, during this time he was level 3 state and regional High Bar champion and two time national qualifier. Following High School he attended Springfield College and competed on the Men's Gymnastics team on Floor, Pommel Horse, Vault and High Bar. In 2007, he placed 4th at the USAG National Collegiate Championships and became an All-American on the Vault. He was a two time NCAA Event Specialist qualifier in the Vault in '08 and '09. In 2010 he won the Empire State Games Open Division All-Around title. In 2010 he graduated with a Degree in Physical Education from Springfield College, and in 2012 he graduated with a Masters degree in Education from Springfield College. Currently he is our Recreational Program Director and Head Level 4 & 6 team coach as well as an assistant boys team coach.
Mike Nadrich - Assistant Manager & Recreational Coach
Mike has been coaching gymnastics for 30 years. Mike worked at American Twisters in Florida for 2 years before moving to New Jersey . While working at Eastern Gymnastics in Cranford New Jersey for 13 years Mike eventually became part owner. After returning to Buffalo Mike attended Hilbert College and graduated with a degree in Economic criminal investigation. Mike has been happily married to his wife Suzie for 17 years and has two active daughters.
Lisa Stumpf - Recreational & Team Coach
Lisa graduated from ECC with a degree in Recreation Management. She started coaching in 1982, after being a competitive gymnast, starting at the YMCA, Rines and finishing her career at Stumpf's. She has been the Scholastic Coach of the Western Team for the Empire State Games and She is the Clarence Varsity Girls Coach for Section 6 since 1999. She currently teaches preschool classes and the girls Level 5-10 teams. Red Cross Certified and CPR, and AED and First Aid Safety Certified through USA Gymnastics.
Diane Tiede - Office Manager
Diane's three children attended Stumpf's through their high school years. Diane's daughter was a class one gymnast who later attended George Washington University. Diane has been the Office Manager for 17 years.
Denise Wiesner - Recreational & Team Coach
Denise started gymnastics at the Buffalo Turn Vevin with Al Stumpf at 10 years old. Al coached Denise to Senior nationals and the national Tumbling championships which she won the title in 1976 & 1977. Denise traveled to Africa and Russia to compete in the World Tumbling Championships in Moscow in 1976 and won two bronze medals. Denise then attended and graduated from Canisus College and was awarded the La Salle Medal. Denise has been married for 37 years, and has three children. Denise's daughter competed for Stumpf's for 16 years and was a 7 time JO national qualifier.
Kimberly Black - Office Manager
Kimberly Black- competed in the USGF for a number of years at Stumpf's, as well as, other clubs. She began coaching for Buffalo Turners while in high school. While attending SUNY Fredonia she coached all levels for Dynamics Unlimited in Dunkirk. Kimberly holds a degree in Theatre from Fredonia, a teaching degree in Art Education from Daemen College and a Masters of Science in Education from Buffalo State. Kim is part of our office staff, here to service our families with any questions via phone, e-mail or in person.
Leah Recor - Team & Recreational Coach
Leah Recor competed in USGF gymnastics at Stumpf's for six years and at Brockport State for four years, where she received a B.S. in Physical Education. She coached at Bright Raven Gymnastics in Rochester for four years. She is head coach of the girl's level 6 team, and currently teaches recreational classes as well.
Marisa Stumpf - Recreational & Team Coach
Marisa participated in gymnastics at Stumpf's for thirteen years advancing to level 9. She currently works at a hair salon following her dream of becoming a celebrity hair stylist. Currently Marisa coaches the level 3 girls team and recreational classes.
Joe Buscaglia - Team Coach
Joe Buscaglia has spent 35 years in the sport of gymnastics. He was a NCAA Division I scholarship athlete at Syracuse University from 1993-1997. He was a member of the Junior National Olympic Team in 1990. Joe was the USA National Vaulting Champion in 1991. He currently teaches Health and Physical Education in the Starpoint School District. Joe also coaches all of the Williamsville High Schools Varsity Gymnastics Teams. He coaches the level 7-10 boys teams at Stumpf's. Joe is married to wife Margaret and together they have four children.
Laura Szafranski - Recreational & Team Coach
Laura was first exposed to competitive gymnastics through the Magnificent 7 in the 1996 Olympics. She initially chose ballet as an activity, wherein she gained a strong appreciation for form and line. After a few years, she could squash her love of flipping no longer and enrolled at Stumpf's. She was thrilled to accept a coaching position there in 2005. Laura teaches multiple levels of girls' and boys' recreational gymnastics, and is currently the head level 3 coach and one of the head coaches of the level 3 pre-competitive team.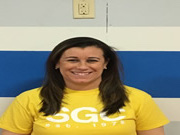 Chelsea Majewski- Team Coach
Miss Shani Andrews - Recreational Coach
Shani attended Stumpf's for 12 years and 2years at Clarence H.S. competed all around the US. She was an Elite gymnast 3x JO National. Attended West Virginia University on a full gymnatics scholarship for 2 years. Currently Shani is a coach and mom of two girls who love gymnastics too.In 2014 Shan was one of the Clarence High School Hall of Fame Inductee's.
Lisa Miller - Recreational Coach
Lisa is a recent graduate of Canisius College majoring in physical education and health. She has competed in gymnastics for 16 years, 6 of those years on the Maryvale High School Gymnastics Team where she was also a captain. Lisa loves working with children of all ages, and has been coaching gymnastics for 6 years. She has also assisted in coaching the Williamsville North Gymnastics team for the past 3 years.Lisa will be the assistant coach of the girls excel for the 2014-2015 season.
Cory Kowalski - Recreational Coach
Cory is one of our longest running Stumpf's Gymnast's he started lessons from age 3.5 until he graduated high school at age 18. Cory was a level 8 gymnasts with Stumpf's with Floor and High Bar being his best events. Cory is a 2011 Graduate of Gannon University in Pre-Law and currently a retail manger with hopes of attending Law School in the future. Cory is ecstatic to be back with Stumpf's, he brings many years of competitive gymnastics knowledge as well as personality to all of his classes. Currently Cory is the assistant manager at a recycled metal braclet company.
Cari Herrmann - Recreational Coach
Cari Herrmann is a former Stumpfs student of 16 years. She completed with Stumpfs for 7 years and for Grand Island High School for 6 years. She has taught gymnastics for the last 15 years for stumpfs instructing students from 3 to 18 in all levels .She also is a high school girls gymnastics judge for the last 4 years.Cari has also taught Acrobatics to local dance students for 8 years.
Megan Welch - Recreational Coach
Megan has been coaching at Stumpf's for 4 years and also competed for Stumpf's for eight years. Currently Megan is finishing up school to become an Elementary school teacher. Megan enjoys staying active in sports whether it be coaching gymnastics or playing soccer recreationally.
Amanda Stumpf - Team & Recreational Coach
Amanda started gymnastics when she was two years old and continued all the way through college. Amanda attend and competed for Springfield College in Springfield, Massachusetts. She graduated with a Bachelor of Science degree in exercise science and a Master's degree in sports psychology. Amanda has been coaching gymnastics for nine years and has loved every second of it.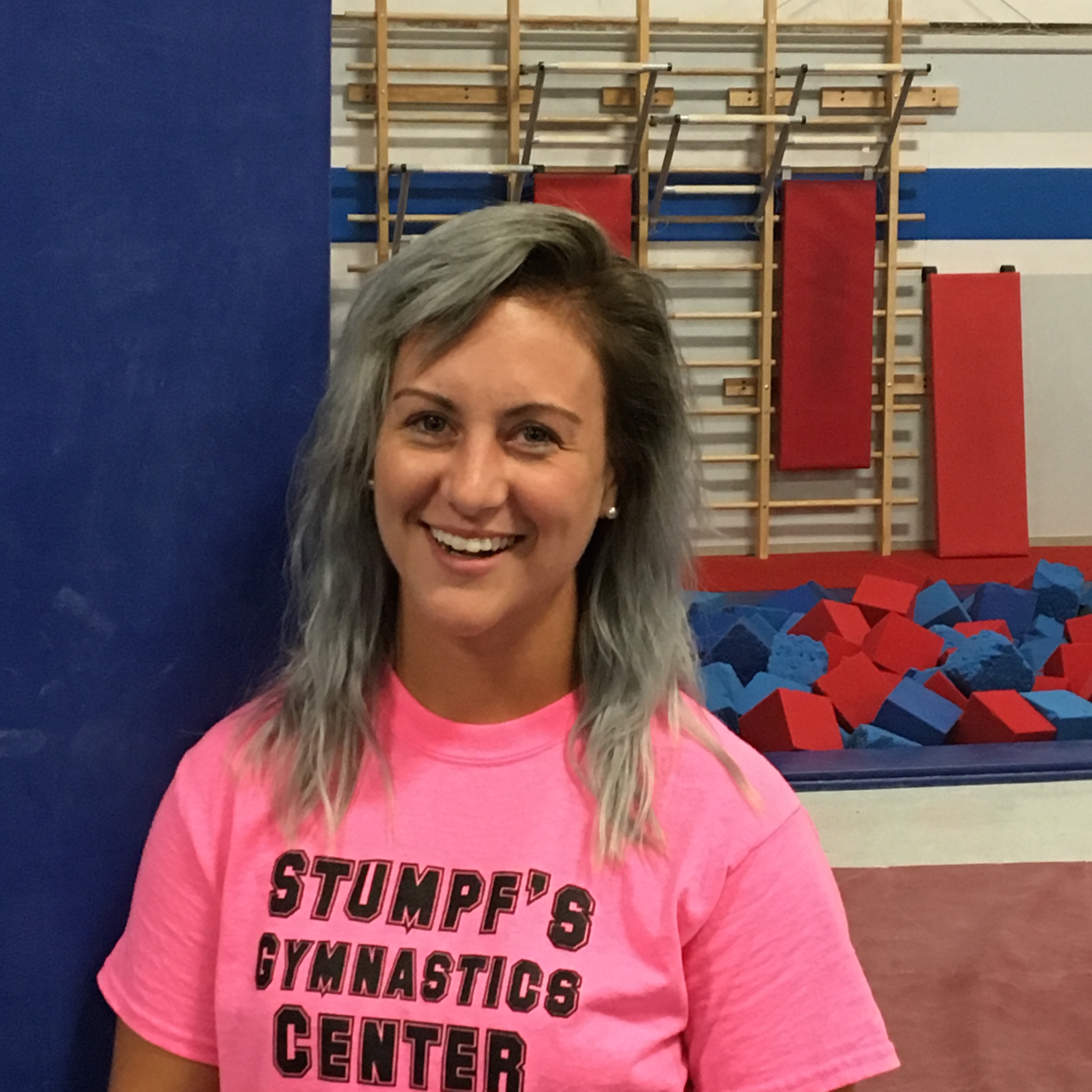 Courtney Aldrich- Recreational Coach
Courtney started gymnastics when she was 5 here at Stumpfs. She then graduated from Brockport with a Bachelors in Physical Education and a masters in recreation managment. Courtney currently teachers High school physical education. While attending Brockport Courtney was part of the Track and Field team specialzing in Pole vault. Courtney enjoys kayaking and paddle boarding during the summers.
Robin Gare - Recreational Coach
Robin started gymnastics at the age of 7 in Michigan and competed USGF for Great Lakes gymnastics in Lansing. Robin received a NCAA scholarship to Northern Michigan University. Robin moved to Buffalo in 2004 with her family and has taught at Stumpf's for the past 6 years. Robin is married with 3 children and her daughter is a level 9 here at Stumpf's.
Alex Sada - Recreational Coach
Alex has been involved with gymnastics since age 5. At her peak Alex was a very competitive level 9 gymnast competing for the state of New York at many regional competitions. Alex also competed for Lancaster High School on their gymnastics team and was team captain her senior year. Alex is currently attending ECC and is studying business management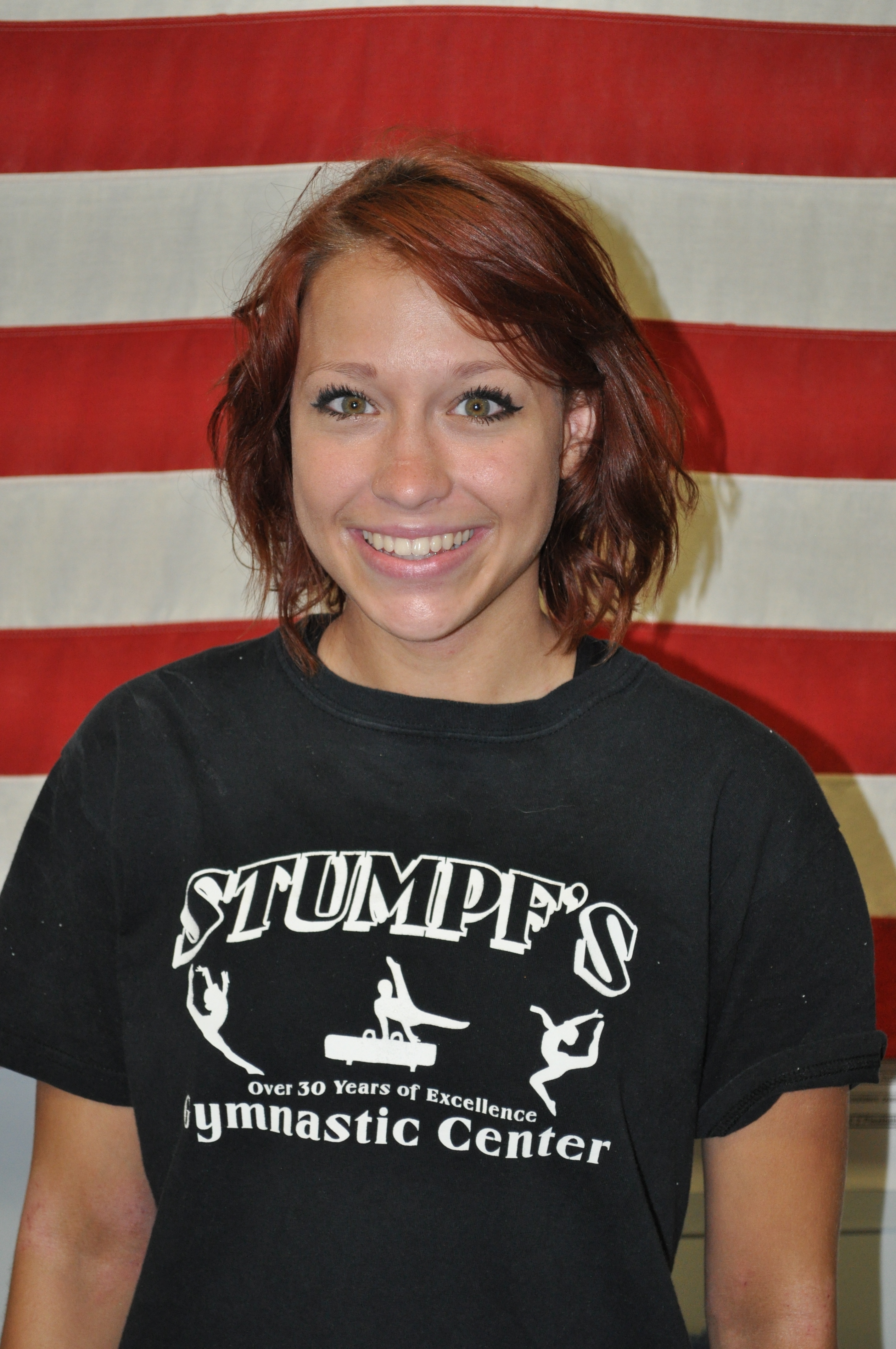 Sarah Wozniak- Recreational & Team Coach
Sarah started gymnastics at age 5 and was active in the sport until age 18. Soon after Sarah retired from the sport she started coaching because in her words "gymnastics is the best sport ever". During Sarah's Freshman & Sophomore year of high school she competed for Lancaster's gymnastics team. During Sarah's Junior & Senior year she chose to join the cheerleading team. Sarah graduated from Lancaster in 2014 and recently finished her training for cosmetology license. Sarah is excited to start a career in cosmetology in the future while still actively coaching at Stumpf's.
Kaylee Strozyk - Recreational Coach
Kaylee was a competitive gymnast for 9 years and made it to level 8 before competing on the club gymnastics team at Liberty University.  Kaylee has been coaching at Stumpf's since she moved to Buffalo a year ago and loves staying involved in the sport as was helping young gymnasts grow. Kaylee was recently marred in the spring of 2014 and is loving learning more about Buffalo.
Jenna Senay - Recreational Coach
Jenna has been a gymnast at Stumpf's since she was nine years old. Jenna has been a competitive gymnast for many years competing up to level 7 . Jenna is currently a Freshman at UB.
Teresa DeMong
Teresa's early years as a gymnast were spent at Rines Gymnastics Center. Due to a change in jobs, Teresa's family relocated to Philadelphia where she continued her gymnastics career at Watkins Gymnastics where she competed as a level 10. Teresa attended college at the University of Pittsburgh where she has an Associates degree in business administration and a Bachelor's in accounting and finance. Upon graduation Teresa returned to WNY and coached all levels at Rines Gymnastics center to state, regional and national competitions. In 2010 Teresa married her husband Jermey DeMong, they have one daughter Jordan who is a gymnast here at Stumpf's. Teresa began working at Stumpf's in 2014 and is currently an assistant pre-team and level 3 girls team coach.
Hunter Sullivan- Team Coach
Hunter Started gymnastics at Stumpf's at 3 years old. He is currently a level 10 gymnast and a Junior at Clarence High School. Hunters Favorite event is High Bar and in his free time he enjoys watching movies and fishing.

Lydia Miller- Recreatinoal Coach
Lydia was a gymnast at Stumpf's for over 10 years competing as a level 8. Lydia also competed for her high school gymnastics team for the past four years, representing Williamsville South. Lydia is excited to begin coaching pre-school and level 1 students here at Stumpf's .

Sean Turtle-Team Coach
Sean has been involved in gymnastics for the past eight years and is currently competing as a level 10 here at Stumpf's and hopes to some day be a collegiate gymnast. Sean is entering his junior year at Clarence High School and also plays the tenor Saxophone in the symphonic band.  When not at the gym , Sean likes spending time with his younger brother, going camping and playing with his dog.
Amanda Harry- Recreational Coach
Amanda was a former level 9 gymnast at Stumpf's. She attended Stumpf's for 15 years. Currently Amanda is a mother of four children and her daugther is a level 4 gymnast here at Stumpf's.
Cody Stumpf - Team & Recreational Coach
Christa Greenberg - Team Coach
Christa coaches all levels of gymnastics classes. Christa was a competitive gymnast at Stumpf's and went on to the University of Rhode Island on a full gymnastics scholarship, competing on their Division I Collegiate Team. She is currently the Coordinator of the Undergraduate Studies Program in the Department of Psychology at the University of Buffalo.
Our Staff